HIS Mini DisplayPort to HDMI Adapter(MAC & PC Ready)

Product Code: HMDPHDMIA

EAN Code: 4895139006582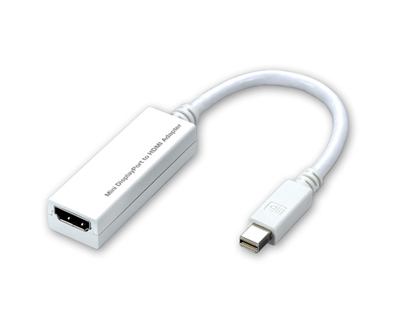 The Mini DisplayPort to HDMI Adapter enable you to connect any HDMI interface embedded device (Monitor, Projector...) with a Mini DisplayPort interface (Desktop, Laptop) and no need to purchase any Mini DisplayPort embedded terminal device.
* Supports audio output for Macbook Pro / iMac released on or after mid-2010

Features
No extra drivers need when it plugs
Support Plug & Play for easy use
Mini DP to HDMI with resolution till 1920x1200
2 channel Audio function
Compliant with HDMI 1.3a

Quick Installation Guide

1. Notice

Please check following information before using this product.
The prouduct DO NOT need any external drivers
This product is the adapter for connecting Mini DisplayPort to HDMI port.
Make sure that your source device (Desktop, Laptop..) has been Mini DisplayPort embedded or bundled any adapter / connector with Mini DisplayPort
Make sure that your terminal device (Monitor, Projector...) has been HDMI port embedded or bundled any adapter / connector with HDMI port

2. Making the Connection

Connect the Mini DisplayPort connector to the source device coordinative port. Then connect the HDMI connector to your terminal device coordinative port as well.

If your terminal device (Monitor, Projector...) has not been connected to the adapter yet, make the connection and power on your terminal device again.

System Requirements

Windows XP, Windows Vista, Windows 7 and Mac OS X v10.5 or later
January 5th, 2013 at 11:00 am
By ENGE
This little adaptor is truly worth all the money for it works as advertised. My MacBook has a mini DisplayPort but no HDMI port. When I need to do a presentation with slides, pictures, and video, I simply hook up the large screen LED TV to the mini DisplayPort via this adaptor. My presentation to the group is now painlessly easy. What more can I ask for this little adaptor that functions as advertised?
October 25th, 2012 at 03:21 am
By Allen Sitter
I needed a Mini DisplayPort adapter to connect a laptop to a 1080p projector and I saw this reviewed on a few tech sites. Under $20 and plug 'n play? Why not!
It is exactly as advertised. A very small converter with no drivers needed. I plugged everything up and it worked right away. No lag or ghosting, just instantly working powerpoints!

I used this to connect the same laptop to a 27in Hanns-G monitor and it supported 1920x1200 resolution right off the bat, amazing for such an inexpensive little product!
December 21th, 2011 at 07:11 am
By DJ Dixon G3
An Exceptionally Well-Built and Functionally Capable Adapter. You get what you pay for when you buy an HIS Product. If you would like a full review please check out G3's full review of this very good product on our website. Thank you.
Sincerely,
DJ Dixon
Lead Writer/Editor Hardware Department
Go! Gaming Giant
Post your comment
Comments will be reviewed by the editors before being published, mainly to ensure that spam and irrelevant material are not published . Please feel free to comment!
We strongly encourage you to use your real name. E-mail addresses are required in case we need to follow up with you directly. We won't publish your e-mail address unless you request.





HIS has won over 1700 awards with AMD graphic solutions from major media worldwide.
"It all works wonderfully." Jarafi-Reviews

"When a trusted brand such as HIS releases a product like this it helps bring some peace of mind to the consumer on which brand to choose. Everything about this adapter is very good. The picture quality was excellent and the audio was exceptional enough. Coming in at a whopping $17.99 it's not the cheapest adapter available, but you're mostly paying for the quality of a trusted and dependable brand." Go!GamingGiant "Exceptional Quality Award"

Back