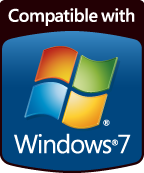 HIS Radeon™ Graphics Cards- The ideal platfrom for Windows 7
HIS Radeon graphics chips and Windows 7 graphics driver draws Windows incredibly efficiently - helping to save system memory and enable a superior Windows experience. The Windows 7 Aero desktop was designed using the DirectX 10.1 API, for which ATI RadeonTM HD 4000 and ATI RadeonTM HD 3000 Series of products provide full support. Besdies, they fully supports the new Direct2D API - enabling enhanced 2D graphics features, and anti-aliased text to make applications running under the Windows 7 desktop look amazingly smooth and readable.
" ATI Radeon graphic is the FIRST and the ONLY graphic product offer the full support of Windows 7, with clear performance and stability leadership."
The latest ATI Catalyst drivers for Windows 7 enable a rock solid WIndows experience, full WDDM 1.1 WHQL support, regular performance and feature updates every month, and ATI Stream support. It ensures smooth DVD and Blu-ray video playback in high-definition displays. The power usage is vastly improved to enable higher power efficiency.
Windows 7: 3D Gaming Performance Leadership
When using ATI RadeonTM graphics accelerators with Windows 7, users can can enjoy amazingly high 3D gaming performance. Due to enhancements in Windows 7 memory management and the ATI Catalyst driver users can expect to see a number of performance improvements under Windows 7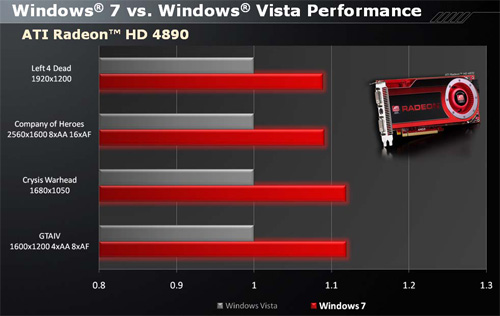 Support for ATI CrossfireX Technology in Windows 7
ATI CrossFireX technology is the ideal solution for Enthusiast gamers to deliver Incredible Windows 7 gaming performance. ATI CrossFireX technology enables improved performance by using 2, 3 or 4 GPUs to accelerate 3D applications. Performance scaling often various per application, but in many cases users will see performance up to double (with 2 GPUs using ATI CrossFireX technology in dual mode) and sometimes even up to triple (with 4 GPUs using ATI CrossFireX technology in quad mode).
The charts below show Windows 7 vs. Windows Vista performance on a system employing ATI CrossFireX technology.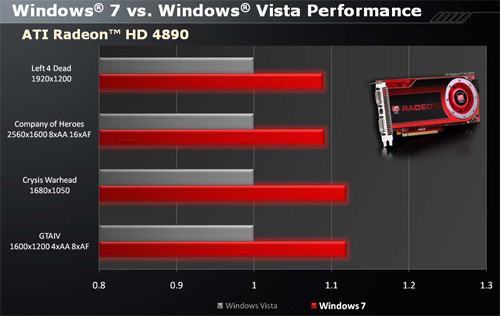 What Expert Says:
"The winner by a clear margin is the Catalyst driver suite, making them the best driver for Windows 7. Of course this doesn't mean that you should install the Catalyst driver on your GTX 285, nor does it mean you can. But if you're using an ATI graphics card you can install Windows 7 knowing that for the most part your performance is going to be up more often than down." - Tweaktown.com
The ATI Catalyst™ graphics driver for Windows 7 has received Windows Hardware Quality Lab (WHQL) certification:
WHQL certification sets a high bar for quality and reliability
WHQL certification demonstrates AMD's ability to deliver the stability, incredible 3D game performance and smooth multimedia playback needed in order to help bring the new features of Windows 7 to life
AMD is the only graphics hardware
For users of ATI RadeonTM HD 2000, HD 3000 and HD 4000 series products, ATI CatalystTM software delivers:
Industry-leading driver stability and reliability
Full WDDM 1.1 WHQL certified support under Windows 7
Scheduled performance and new feature innovation every month
Enablement of ATI Stream technology for general purpose GPU (GPGPU) computing on supported graphics cards
Benefits of using ATI RadeonTM graphics cards with Windows 7:
The Windows 7 Aero desktop was designed using the DirectX® 10.1 API - ATI RadeonTM HD 4000 and ATI RadeonTM HD 3000 series of graphics products provide full DirectX® 10.1 support
Support for high fidelity graphics
ATI RadeonTM graphics and Windows 7 driver draws Windows efficiently - saving system memory, delivering a superior Windows experience
Support for the new Direct2D API - helping text to look smoother and more readable in third-party applications
Great 3D gaming performance for single GPU and ATI CrossFireXTM platform configurations
Smooth DVD and Blu-ray video playback
Power efficiency improvements - delivering long battery life