HIS 6870 Fan 1GB GDDR5 PCI-E HDMI/2xDVI/2xMini DP

產品編號
H687F1G2M
EAN 編碼
4895139004625
散熱器
Fan
GPU
6870
芯片時脈
900 MHz
記憶體 時脈
4200 MHz
記憶體
1024 MB
記憶體類別
GDDR5
記憶體介面
256 bit
介面
PCI Express x16 (PCI Express 2.1)
顯卡大小
12.6 x 4.2 x 26.2 cm
包裝盒大小
32.27 X 9.45 X 15.25 cm
Availability
Get Immersed with AMD Eyefinity Technology
Expand your favorite games across multiple displays with AMD Eyefinity technology for an incredibly expansive field of view.
Get the freedom and flexibility to upgrade. This modular solution enables you to add more displays when you need them.
Get more done. Put your productivity into overdrive and let up to three displays put all the information you need right before your eyes.
Don't choose between play and work. Let up to 4 displays help you enjoy games, movies and the web at the same time.

* ATI Eyefinity technology requires one panel with a DisplayPort connector to enable the third display. DisplayPort to DVI dongle is required for panel with DVI connector
Get Amazing EyeDefinition Graphics with Direct® 11 Technology
Be ready for the hottest DirectX® 11-capable games with AMD's second generation graphics with full DirectX® 11 support.
With lightning-fast frame rates and ultra-realistic effects, the AMD Radeon™ HD 6800 Series enables an amazing HD gaming experience.
Play your favorite games in full stereo 3D, and get incredibly rich and interactive gameplay with AMD HD3D technology.
With outstanding tessellation performance, AMD Radeon™ HD 6800 Series graphics are designed to deliver the realistic detail that you deserve.
Speed Up Applications and Enjoy Brilliant Video with AMD EyeSpeed Technology
Accelerate the most demanding applications with AMD Accelerated Parallel Processing (APP) technology. Do more, faster.
Maximize your online and Blu-ray video experiences with a new level of smooth visual quality with AMD EyeSpeed visual acceleration technology.
Experience Blu-ray 3D as it was intended with AMD HD3D technology.
Take advantage of AMD Radeon™ HD 6800 Series graphics' Dolby True HD and 3D HDTV support to create that theatre-quality experience.
Put out Stunning Visual and Unrivaled Audio Experience with HD3D Technology
Stereo 3D display/glasses support
Stereo 3D gaming
Blu-ray™ 3D support
3rd Party stereo 3D middleware software support
Launching with AMD Radeon™ 6800 Series GPUs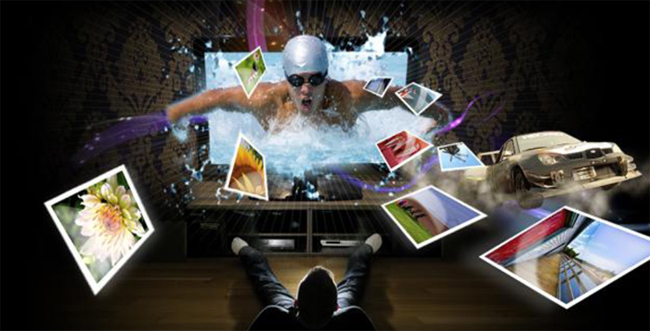 HD 6800 Features and Benefits
| | |
| --- | --- |
| Features | Benefits |
| Microsoft® DirectX® 11 Support | Get intense gaming performance and unrivalled image quality with stunning 3D visual effects, realistic lighting and lifelike imagery, driven by AMD's second-generation DirectX® 11-capable graphics. |
| AMD Eyefinity Technology | Enjoy the ultimate immersive gaming experience with AMD's Eyefinity multi-display capabilities |
| AMD Advanced Parallel Processing technology | Accelerate the most demanding applications for improved performance |
| Advanced GDDR5 Memory Technology | Delivers more speed and higher bandwidth |
| AMD CrossFireX™ Technology | Increase your gaming performance with AMD CrossFireX™ Technology |
| 3rd Generation TeraScale Engine | Provides increased processing power for the latest games and accelerated applications |
| 40nm Process Technology | Provides enhanced processor performance while using less power and better transistor efficiency than previous generation technology |
| Accelerated Video Transcoding | Helps improve video transcoding performance |
| Display Flexibility | More flexibility with maximum connectivity for the latest display technologies |
| HDMI 1.4 | Helps ensure you get the full Blu-ray and PVR experience from your PC |
| Dolly®TrueHD and DTS-HD Master Audio Support | Get a fully immersive high-definition audio experience with the latest Blu-ray movies |
| AMD PowerPlay™ Technology | Power draw scales according to activity so when GPU activity is low, the power draw is minimal |
| Enhanced Unified Video Decoder (UVD) 3 | Watch the hottest Blu-ray movies, online video and other HD content beyond 1080p with low power and low noise with GPU acceleration and enhanced Unified Video Decoder (UVD) 3 features |
50% off Tridef® 3D Experience Software with Purchase of HIS Radeon™ HD 6800 Series
TriDef® 3D Experience software enables the conversion of 2D to 3D content with the support of AMD Radeon™ HD 6800 Series graphics.

Learn more
http://www.hisdigital.com/un/news_show-140.shtml
The Power of HIS
The Excalibur, once owned by the invincible King Arthur, denotes the leader's mighty kingship with its mystical power and fascinating beauty and brings him triumph battle after battle.
Now HIS raises this sword again for gamers.
The Legend reborn... Prepare to conquer the gaming world!
HIS PRODUCTS ADVANTAGE
HIS delivers Faster, Cooler, Quieter plus the best quality product!
Professional customer service and technical support
What's in the box
HIS Graphics Card
CrossFireXTM Bridge
2x Power Cable 2x 4pin in, 6 pin out
DVI-VGA Adapter
Install CD with Multilingual User Guide
Quick Installation Guide
HIS Power Up Label
| | |
| --- | --- |
| Model Name | HIS 6870 Fan 1GB GDDR5 PCI-E HDMI/2xDVI/2xMini DP |
| Chipset | Radeon HD 6870 PCIe Series |
| ASIC | RadeonTM HD 6870 GPU |
| Manu. Process (Micron) | 40nm |
| Memory Size (MB) | 1024 |
| Memory Type | GDDR5 |
| Engine CLK (MHz) | 900Mhz |
| Memory CLK (Gbps) | 4.2Gbps |
| Memory Interface (bit) | 256 |
| Power Supply Requirement | 500 Watt or greater power |
| Max. Resolution | 2560*1600 |
| Bus Interface | PCI Express x16 |
| Mini Display Port | Yes |
| HDMI | Yes |
| DVI | Upper Single-link DVI-D + Bottom Dual-link DVI-I |
| VGA | No |
HD 6870 System Requirement
PCI Express ® based PC is required with one X16 lane graphics slot with 2 slots space available on the motherboard
500 Watt or greater power supply with two 75W 6-pin PCI Express® power connectors recommended (600 Watt and four 6-pin connectors for AMD CrossFireX™ technology in dual mode)
Certified power supplies are recommended. Refer to http://ati.amd.com/certifiedPSU for a list of Certified products
Minimum 1GB of system memory
Installation software requires CD-ROM drive, a keyboard, a mouse, and a display
DVD playback requires DVD drive and a DVD
Blu-ray™ playback requires Blu-ray drive and a Blu-ray disc
For an AMD CrossFireX™ system, a second AMD Radeon™ HD 6800 Series Graphics card, an AMD CrossFireX™ Ready motherboard and one AMD CrossFireX™ Bridge Interconnect cable is required

April 8th, 2013 at 02:10 am
By waleed ahmed
His radeon hd 6870 is really a great performance card i had just baught it yesterday giving 60 fps in resident evil6
June 5th, 2012 at 07:34 am
By Jay Stankiewicz
Hi everyone. I got to say it is my first ATI Radeon and I got to admit that it is very affordable quality graphics card. I recommend HIS cos its working fine without problems since sep 2010. highly recommended. got it of jeksell
August 12th, 2011 at 10:40 am
By James
I loved this card even before i opened the box (the picture is so awesome). Second of all, the card performs exceptionally in games, videos, eyefinity, and everything else. Also the card was extremely affordable.
March 7th, 2011 at 12:42 pm
By MADDOG
Very nices card.plays all my games great.Have card clocked at 950 core & 1175 mem.Fan at 45%. No load 33c under load 55c give or take a c or 2.Running on my 47in. lg tv 1080P.Looks better than the 23" monitor. VERY HAPPY WITH THE HIS HD6870 CARD!!!!!!!!!!!!!!!!!!!
January 22th, 2011 at 09:30 am
By Hans hadiranto
HIS radeon HD6870 playing games with Directx 9,10,11 ? it doesn't matter although the "Green Side" have problem with directx 9 mode, you can play all with very smooth FPS!, I guarantee this card is very worth it for the gamers!
December 3th, 2010 at 05:05 am
By WAQAR ALI Quetta Pci
The HIS Radeon HD6870 is king, real h3d real graphic and colors if see there graphics i gaurented that u will buy it so be real gamer powered by AMD+ATI. Bcz The Future is Fusion.
November 29th, 2010 at 06:57 am
By Klaus
If you are an average to intense gamer then you will not be disappointed in the HIS Radeon HD 6870 as every game i threw at it set with max. settings this GPU has perform very well and through HDMI at 1080p was awesome on a 46 inch HDTV.
For the price of this GPU and the features it has you cannot go wrong and i highly recommended the HIS Radeon HD 6870, i am a very satisfied customer with this product. :)
November 28th, 2010 at 04:17 am
By waqar ali
so cool excellence performance so if u want to become gamer just go with his, and don't try to buy nvidia gtx480 bullshit card. the gtx480 performance going step by step lazy because heating. By VICKY Quetta.
November 22th, 2010 at 02:52 am
By waqar
excellent price+performance and real 3d graphic the radeon hd6870 is best choice for intense gamers, the his is error free brand just buy it with satisfacation.
November 22th, 2010 at 02:45 am
By waqar
his is sexiest brand, the hd 6870 is better choice of gtx470, so dont thinking just buy it without worrying
November 9th, 2010 at 11:37 am
By Jhapon
HIS is the vga of all vga!!!
October 29th, 2010 at 07:29 pm
By Myko
Great card price-performance ratio. This HIS version came with everything I needed, and even a case badge!
October 29th, 2010 at 07:27 pm
By Myko
I bought 2 of these from HIS. One for my friend, and one for me. He decided to get a powercolor 6870 too a second crossfire card. It didn't come with any connectors, cables, or driver cds! The card even failed on the second day he used it, and he couldn't get a refund! HIS is the best company to buy graphics cards and accesories. They offer great deals and rebates, in addition to every card looking sleek, and having great cooling!
Post your comment
Comments will be reviewed by the editors before being published, mainly to ensure that spam and irrelevant material are not published . Please feel free to comment!
We strongly encourage you to use your real name. E-mail addresses are required in case we need to follow up with you directly. We won't publish your e-mail address unless you request.






HIS has won over 1700 awards with AMD graphic solutions from major media worldwide.

"The Radeon HD 6870 goes well for all tested games in the highest resolutions and detail levels.The overclocking potential of the card is good, after all, we get 75 MHz more than with the PowerColor HD 687" Radeon3D "Price Performance Award"

"This card really surprised me in the end. I offer great performance for the price.... This card really targets the average gamer that wants to get real performance without spending next month's rent money to get it." - Gamers' Daily New "Gold Award"

"For HIS HD 6870 1GB GDDR5, this also forces parties to available at all offline game today. DX11 Tessellation was developed stronger than ever obvious." - Vmodtech "Best Performance" & "Best Innovation"


"Definitely HIS 6870 is the more interesting card. It does have a handful more shader processors over what we expected initially, and armed with a phat 900 MHz clock frequency this product simply makes really good sense." Guru3D "Recommended Product"

"Offering highly accurate performance for this price, the HD 6870 is an interesting place in the nomenclature of AMD coming to harm the GTX 460 1GB and nearly matching the GTX 470." - Centrale 3D "Gold Award"

"All the cards were quiet when idle and audible rather than loud when working hard .We' d therefore optfortheHIS HD 68701GB ,asit's the cheapest ."- CustomPC "Highest scores"

"Across the benchmarks the jump in performance is around ten per cent... We'd certainly plump for the HD 6870 1GB over the GTX 470 1,280MB despite the latter's slightly superior performance, thanks in majority to the HD 6870 1GB's lower power consumption and un-intrusive non-nuclear cooler" - Bit-Tech.net "Recommended Product"


"The AMD Radeon HD 6870 … positioned … against the GeForce GTX 460 1GB … in our testing it blew it away. The Radeon HD 6870 comes in-between the 5850 and 5870 in performance, but the kicker is that it is much cheaper, runs cooler, and uses less power doing it. We think it is most impressive that the Radeon HD 6870 is using 25% less silicon, less transistors, lower power and temperatures compared to Radeon HD 5850, yet providing slightly faster performance! The 6800 series video cards are the fastest power friendly video cards we've ever seen and this is the most performance we've ever seen in this power envelope. AMD is now offering the highest performance ever seen at lower price points. In regards to the 6870, if you currently own a GTX 460 1GB then the 6870 is a major upgrade in performance. Any way you slice it, the current Radeon HD 6850 and Radeon HD 6870 offerings are stellar deals. Better performance, lower prices, lower power, lower temps, and just a really good gameplay experience! The Radeon HD 6850 is the best sub-$200 performance we've ever seen, and the lowest power envelope we've ever seen it at." HardOCP "Gold Award"

"AMD has the better product as far as I'm concerned. I'm stoked about this launch for a couple of reasons, the main one being the $/FPS ratio. One of the largest bonuses of AMD's recent cards to me has been power consumption. There's just no comparison. The HD 6870's TDP is 151W, and based on our testing, that seems about right.NVIDIA requires gamers to use two of its cards for multi-monitor gaming, so the fact that AMD continues to let gamers purchase an affordable card and power three monitors off of it is fantastic." - Techgage "Editior's Choice"

"The new Radeon HD 6800 series cards performed very well throughout our entire battery of tests. Generally speaking, the Radeon HD 6870 performs about on par with the GeForce GTX 470. We also witnessed excellent dual-GPU scaling when running the new Radeon HD 6800 cards in CrossFire mode. One word aptly describes AMD's latest Radeon HD 6800 series GPUs: refinement. To that end we'd say the company has succeeded masterfully. Gamers can enjoy virtually all the performance, but with lower power consumption and better support for DX11 features like tessellation and seemingly better multi-GPU scaling. What we're looking at here with the Radeon HD 6800 series is a smaller, more efficient graphics engine, pushing higher clock speeds and throughput from less silicon area. It's a great foundation to build from actually." - Hothardware.com "Recommended"

"It is quite clear that the HD6870 is an excellent GPU that can easily take on the GTX460 in the mid-range market. The HIS Radeon HD6870 is a solid mid-range video card that lets users play most games at high resolutions and quality settings. We are proud to award it the" - Bjorn3D "Seal of Approval"
"The higher frequencies and the different architecture optimizations are here to counterbalance that. Furthermore, the new tesselation unit is also a success and in the benchmarks the do better than the 5870 ! The 6870 is really here and announced the new card is allready the best choice in this price range. Not only for the performance/price/consumption ratio but also for the features with UVD 3 and EyeFinity. For all this reasons, we gave a gold award to the Radeon HD 6870 a fantastic anwser fo the only really valuable cards of the chameleon brand." - Comptoir Hardware "Gold Award"


"The HD6870 is a clear performance leader and development team who have managed to achieve high levels of scaling under Crossfire conditions. In our testing the HIS HD6870 was always at the top of the pack, sometimes leading the way, and on occasion just slightly behind the overclocked GTX460 SLI configurations...We like this card, the pricing is good and performance out of the box is killer. While it isn't breaking new performance records, it is able to handle overclocked GTX460′s while offering excellent scaling in CrossFireX if you fancy an upgrade later." KitGuru - "Must Have Award"


"Unquestionably both the HIS HD6850 and HIS HD6870 comfortably beat the cards they are intended to replace. The HD6850 is on a par with the HD5830 and the HD6870 conclusively is at the top of all of our tests. Mid-range cards are something we've always loved...Overclocking enabling huge performance increases for zero cost." - Overclock 3D "Bronze Award"

"If you need one takeaway from the introduction of the Radeon HD 6850 and HD 6870, it should be this: the new GPUs offer everything the Radeon 5000-series do, and they add the cherry on top with extra features" - HEXUS "Recommended Product"

"In this case we compared Radeona HD 6870 1GB to company overlocked GeForce GTX 460 1GB OC 800MHz/1000MHz, because both cards cost quite the same. Advantage of Radeona HD 6870 was very clear, Radeon won in 11 from 14 games in 1680x1050and in 10 from 14 games in 1920x120, having adequately on average 10% and 13% better results than the competitor." - In4.pl "Recommended"
"HIS's architectural improvements have not been to the core architecture. Another field of advancement is the display output logic which has been expanded on again, giving AMD even more margin against NVIDIA here. Support for DisplayPort 1.2 allows up to six displays connected to a single card and enables daisy chaining and hub functionality for easier monitor hook up.HDMI 1.4 includes support for Blu-ray 3D titles which seems to be more of a features list bullet point than a real need-to-have feature at this time. Nice performance increase in this price segment" - TechpowerUp " Recommended Award"

"There were a few tests that matched the Radeon HD 6870 with the GeForce GTX 470, and then there were tests that pegged it against the 1GB GeForce GTX 460. Most times it required a heavily overclocked GTX 460 to find similar competition....occasionally competes with the NVIDIA GeForce GTX 470, and easily outperforms the 1GB GTX 460. Radeon HD 6870 shines as a solid gaming product." - Benchmark Reviews

"AMD's HD 6870 and HD 6850 are two cards that actually managed to exceed our expectations in nearly every conceivable way. HD 6870 has the ability to significantly outdistance the GTX 460 1GB at nearly every single resolution and IQ setting we used which came as a complete shock considering its price hovers around the $240 mark. In our opinion, the HD 6850 provides an excellent alternative to the GTX 460 768MB and has the ability to compete directly against the more expensive GTX 460 1GB. You can count the HD 6870 and HD 6850 as a kind of security net for future upgrades. With the HD 6870 and HD 6850, AMD has proven they can deliver evolutionary products that hit all the right points while remaining highly competitive performance-wise."- Hardware Canucks - "Dame Good Value"

"This should give you an idea of just how much of a threat NVIDIA thinks the new Radeon HD 6870 is. Radeon HD 6870, is the best mid to high-end graphics cards in the market right now... we feel that premium is justified because of its better overall performance and also the new features it offers." - Hardwardzone

"we appreciate the HDMI coming out of the DTS HD MA and Dolby Digital True HD bitstream. Also note that it is possible to extend the display on two, three or up to six monitors and extend the overall resolution. we could say that AMD signs here a very good graphics card: performance in games, silent at rest and saving electricity." - Lesnumeriques - Rated 5 Stars

回上頁