HIS 6850 Fan 1GB GDDR5 PCI-E HDMI/2xDVI/DP

產品編號
H685F1GD
EAN 編碼
4895139004601
散熱器
Fan
GPU
6850
芯片時脈
775 MHz
記憶體 時脈
4000 MHz
記憶體
1024 MB
記憶體類別
GDDR5
記憶體介面
256 bit
介面
PCI Express x16 (PCI Express 2.1)
顯卡大小
12.6 x 4.2 x 23.2 cm
包裝盒大小
32.27 X 9.45 X 15.25 cm
Availability
Get Immersed with AMD Eyefinity Technology
Expand your favorite games across multiple displays with AMD Eyefinity technology for an incredibly expansive field of view.
Get the freedom and flexibility to upgrade. This modular solution enables you to add more displays when you need them.
Get more done. Put your productivity into overdrive and let up to three displays put all the information you need right before your eyes.
Don't choose between play and work. Let up to three displays help you enjoy games, movies and the web at the same time.

Run up to 3 displays from a single graphics board and expand your gaming field of view across all displays. Enjoy the ultimate immersive gaming experience with innovative "wrap around" multi-display capabilities. *

* ATI Eyefinity technology requires one panel with a DisplayPort connector to enable the third display. DisplayPort to DVI dongle is required for panel with DVI connector
Get Amazing EyeDefinition Graphics with Direct® 11 Technology
Be ready for the hottest DirectX® 11-capable games with AMD's second generation graphics with full DirectX® 11 support.
With lightning-fast frame rates and ultra-realistic effects, the AMD Radeon™ HD 6800 Series enables an amazing HD gaming experience.
Play your favorite games in full stereo 3D, and get incredibly rich and interactive gameplay with AMD HD3D technology.
With outstanding tessellation performance, AMD Radeon™ HD 6800 Series graphics are designed to deliver the realistic detail that you deserve.
Speed Up Applications and Enjoy Brilliant Video with AMD EyeSpeed Technology
Accelerate the most demanding applications with AMD Accelerated Parallel Processing (APP) technology. Do more, faster.
Maximize your online and Blu-ray video experiences with a new level of smooth visual quality with AMD EyeSpeed visual acceleration technology.
Experience Blu-ray 3D as it was intended with AMD HD3D technology.
Take advantage of AMD Radeon™ HD 6800 Series graphics' Dolby True HD and 3D HDTV support to create that theatre-quality experience.
Put out Stunning Visual and Unrivaled Audio Experience with HD3D Technology
Stereo 3D display/glasses support
Stereo 3D gaming
Blu-ray™ 3D support
3rd Party stereo 3D middleware software support
Launching with AMD Radeon™ 6800 Series GPUs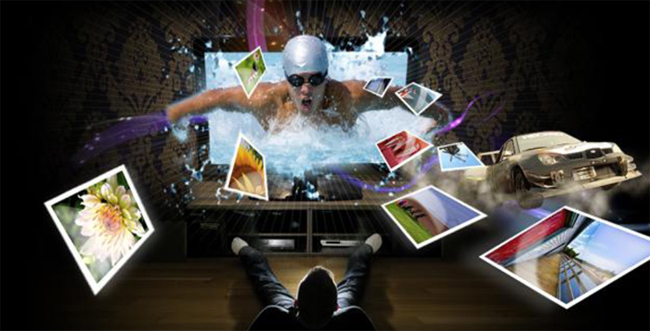 HD 6800 Features and Benefits
| | |
| --- | --- |
| Features | Benefits |
| Microsoft® DirectX® 11 Support | Get intense gaming performance and unrivalled image quality with stunning 3D visual effects, realistic lighting and lifelike imagery, driven by AMD's second-generation DirectX® 11-capable graphics. |
| AMD Eyefinity Technology | Enjoy the ultimate immersive gaming experience with AMD's Eyefinity multi-display capabilities |
| AMD Advanced Parallel Processing technology | Accelerate the most demanding applications for improved performance |
| Advanced GDDR5 Memory Technology | Delivers more speed and higher bandwidth |
| AMD CrossFireX™ Technology | Increase your gaming performance with AMD CrossFireX™ Technology |
| 3rd Generation TeraScale Engine | Provides increased processing power for the latest games and accelerated applications |
| 40nm Process Technology | Provides enhanced processor performance while using less power and better transistor efficiency than previous generation technology |
| Accelerated Video Transcoding | Helps improve video transcoding performance |
| Display Flexibility | More flexibility with maximum connectivity for the latest display technologies |
| HDMI 1.4 | Helps ensure you get the full Blu-ray and PVR experience from your PC |
| Dolly®TrueHD and DTS-HD Master Audio Support | Get a fully immersive high-definition audio experience with the latest Blu-ray movies |
| AMD PowerPlay™ Technology | Power draw scales according to activity so when GPU activity is low, the power draw is minimal |
| Enhanced Unified Video Decoder (UVD) 3 | Watch the hottest Blu-ray movies, online video and other HD content beyond 1080p with low power and low noise with GPU acceleration and enhanced Unified Video Decoder (UVD) 3 features |
50% off Tridef® 3D Experience Software with Purchase of HIS Radeon™ HD 6800 Series
TriDef® 3D Experience software enables the conversion of 2D to 3D content with the support of AMD Radeon™ HD 6800 Series graphics.

Learn more
http://www.hisdigital.com/un/news_show-140.shtml
The Power of HIS
The Excalibur, once owned by the invincible King Arthur, denotes the leader's mighty kingship with its mystical power and fascinating beauty and brings him triumph battle after battle.
Now HIS raises this sword again for gamers.
The Legend reborn... Prepare to conquer the gaming world!
HIS PRODUCTS ADVANTAGE
HIS delivers Faster, Cooler, Quieter plus the best quality product!
Professional customer service and technical support
What's in the box
HIS Graphics Card
CrossFireXTM Bridge
Power Cable 2x 4pin in, 6 pin out
DVI-VGA Adapter
Install CD with Multilingual User Guide
Quick Installation Guide
HIS Power Up Label
| | |
| --- | --- |
| Model Name | HIS 6850 Fan 1GB GDDR5 PCI-E HDMI/2xDVI/DP |
| Chipset | Radeon HD 6850 PCIe Series |
| ASIC | RadeonTM HD 6850 GPU |
| Manu. Process (Micron) | 40nm |
| Memory Size (MB) | 1024 |
| Memory Type | GDDR5 |
| Engine CLK (MHz) | 775Mhz |
| Memory CLK (Gbps) | 4Gbps |
| Memory Interface (bit) | 256 |
| Power Supply Requirement | 500 Watt or greater power |
| Max. Resolution | 2560*1600 |
| Bus Interface | PCI Express x16 |
| Display Port | Yes |
| HDMI | Yes |
| DVI | Upper Single-link DVI-D + Bottom Dual-link DVI-I |
| VGA | No |
HD 6850 System Requirement
PCI Express ® based PC is required with one X16 lane graphics slot with 2 slots space available on the motherboard
500 Watt or greater power supply recommended
Certified power supplies are recommended. Refer to http://ati.amd.com/certifiedPSU for a list of Certified products
Minimum 1GB of system memory
Installation software requires CD-ROM or DVD-ROM drive, a keyboard, a mouse, and a display
DVD playback requires DVD drive and a DVD
Blu-ray™ playback requires Blu-ray drive and a Blu-ray disc
For an AMD CrossFireX™ system, a second AMD Radeon™ HD 6800 Series Graphics card, an AMD CrossFireX™ Ready motherboard and one AMD CrossFireX™ Bridge Interconnect cable is required
August 14th, 2012 at 04:13 pm
By Trystan Spooner
This is a fantastic card for the serious gamer on a budget. I'm very satisfied that you can play the latest games in full HD 1080p without lag. For all you gamers who are on the cheap, this HIS HD 6850 is the card for you.
January 13th, 2012 at 06:23 pm
By Virat
i have this card in crosfire and play with 2 monitors card has best scaling and its a good value for money
December 9th, 2011 at 08:23 pm
By Valeriu
Best choice for price value!
I have one for about one year and i am very satisfied.
November 10th, 2011 at 04:36 pm
By Mustansir Abid
This is a beast of a card at this price point. Maxes out most of the games at 1080p and even at load the noise level isn't all that high.
Temperatures are also quite good. Idling around 40s and at heavy load stays below 75C.
A highly recommended buy!
September 18th, 2011 at 08:20 am
By Matheus Dantas
very very very good video card, the best xd
September 17th, 2011 at 01:06 am
By Jason
Want a good quality card that plays all the latest games at 1080p. The 6850 runs at a cool 68c under load with an ambient of 27c. The card it self is surprisingly powerful and quiet.
10/10 HIS.
March 22th, 2011 at 04:47 am
By ANIS
HIS 6850.....It work on DG43NB MOTHERBOARD.
February 22th, 2011 at 01:37 am
By SOHAIB ARSHAD
its a very very good card
Post your comment
Comments will be reviewed by the editors before being published, mainly to ensure that spam and irrelevant material are not published . Please feel free to comment!
We strongly encourage you to use your real name. E-mail addresses are required in case we need to follow up with you directly. We won't publish your e-mail address unless you request.






HIS has won over 1700 awards with AMD graphic solutions from major media worldwide.
"The model is currently one of the most exciting graphics cards for those who look at the price. It provides ample performance for most current games (up to 1,920 x 1,080) but has also pleasantly low power consumption with its compact design. The HIS 6850 is our absolute recommendation for all noise-sensitive users. With this HIS card you solve the noise problem elegantly without giving up performance." Chip.de

"The HIS HD6850 not only performs well at the stock speeds but overclocks very well so we can get even more performance out of it. it is a good cooler that keeps the card cooler than a reference board With a score of 8/10" Bjorn3D "Silver Bear Award"

"When we tried to increase frequencies on the graphics card, it was difficult to find the limit. Radeon HD 6850 är ett utmärkt grafikkort att överklocka. Radeon HD 6850 is a great video card to overclock.... Power consumption is low and on par with the GTX 460 768 MB."-Mikrodatorn "Recommended Product"

"Just as expected, the HD6850 had a LOT more to offer in terms of overclocking than the Catalyst had shown.The HIS HD6850 also got up to 1000 MHz, which is also very impressive." Metku "Gold Award"

"though imrpovement of speed, cooling system and card size, HIS HD 6850 1024MB 256-bit GDDR5, PCI-E remains a non-standard product in terms of layout and JI." - iXBT.com "Original Design"


"The HD 6850 is an excellent graphics card. In the DX11 gaming benchmarks Metro 2033 and Alien Vs. Predate it sets new benchmarks in its price class. Overall, the card is fast enough to enjoy the latest games in HD"- PC Go "Sehr Gut Award"


"new tesselation calcul unit, UVD 3, new video interface support, 3D...Regarding the HIS product especially, the reviewer find it quiet when idle and not to loud when in charge.For the temperature ,measurement are of 45°C under windows and 77°C under Furmark that are very good values to the reviewer opinion." - PC Jeux. "90% score"

"the cheapest available on the market, the HD 6850 card" - NVISION "Recommedntation Product"

"The HIS HD 6850 1GB GDDR5 Video Card is one of the best bang for the buck video cards out there. While it doesn't scream performance it is affordable and is jam packed full of features. Get a couple of these in a Crossfire setup and you're rockin'" - 3D Gameman "Gameman's Choice"

Viperlair

"The performance of the card is really good at this price point, and sits in the lower mid-range very well. HIS Radeon 6850 1GB either matched or beat our comparison card, I think they are being a little conservative here, or perhaps that's the point. The 6850 will perform better than or at least the same as a more expensive GTX 460 1GB." - Viperlair "Recommended Product"

"(Referring to HD 6850) GTX 460 1GB performance at GTX 460 768MB pricing, and with GTS 450 power draw. Really, what's not to love? Tessellation performance has improved, power draw has dropped and heat has also dropped while keeping noise levels the same. Then there's the fact that it performs pretty much in line with a HD 5850 for less." TweakTown "Editor's Choice"

"It's really a budget gamer and if you're not gaming then there are dozens of cards which will run your desktop and HD movie needs, but if you are looking for a 3D compatable HTPC card then this could be right up your street!" - Overclock3D - "Bronze Award"
"HIS also managed to reduce power consumption even further, boosting performance per Watt some more. Improvement in performance per Watt" - TechpowerUp - "Recommended Award"

"The Radeon 6850 offers plenty of performance for today's games. This product simply makes really good sense. It will bring a lot of value to the table but will also allow you to play your games at 1920x1200 extremely well. From a price point of view that makes this product really nice. The two cards tested today run beautifully, seem faster than the reference GTX 460 cards and can even match the GTX 470. The cards neither are noisy or running hot and the overall game performance really is spot on." - Guru3D "Recommended"

"the new cards are off to a good start, offering good bang for buck, something that Radeons have come to be known for. The HD 6850 is not too shabby itself and is a really decent offering too if you can't stretch your budget to meet the HD 6870." - Hardwardzone

回上頁