HIS HD 4670 IceQ Native HDMI 1GB (128bit) DDR3 AGP

產品編號
H467QS1GHA
EAN 編碼
4895139003819
散熱器
IceQ
GPU
4670
芯片時脈
750 MHz
記憶體 時脈
1600 MHz
記憶體
1024 MB
記憶體類別
DDR3
記憶體介面
128 bit
介面
AGP 8X/4X
顯卡大小
20x12.6x4.2cm cm
產品重量(連包裝盒)
0.4 kg
Availability
Available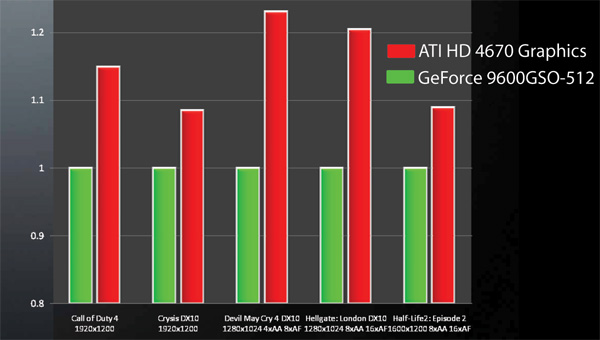 "HIS HD 4670 graphics beats GeForce 9600 GSO in high settings!" - Comparsion based on AMD internal testing
Product Advantage
HIS IceQ technology is endorsed as the most efficient cooling technology among the current mainstream graphic cards' series. HIS IceQ can actively draw the air inside your PC case to cool down the card, and blows amounts of hot air out of your case, dramatically decreasing the GPU temperature together with your PC components. HIS IceQ is also UV sensitive, enhancing the gamers' UV light case.

Heat transfers rapidly out of GPU and reduces temperature faster.

Cool down the droom to overclock and run chip faster; provides more headroom to overclock and run faster.

Operates with lower noise level than original cooler.
Efficient transfer of heat outside of computer case
Cool air is drawn from both sides of the fan and hot air is forced out of the computer case. This ensures effective cooling when there is another card in front blocking the fan inlet.
Silent and durable fan
Significantly reduce noise level and extend service life
Isolated heatsinks
memory and GPU heatsinks are completely separated, preventing any heat transfer from GPU to memory. Memory heatsink is actively cooled by air stream from main cooler.
CHIPSET FEATURES
320 stream processing units
128-bit memory interface
24x custom filter anti-aliasing (CFAA) and high performance anisotropic filtering
High-speed 128-bit HDR (High Dynamic Range) rendering
Built-in Native HDMI with 7.1 surround sound support
Dynamic geometry acceleration
Game physics processing capability
HIS PRODUCTS ADVANTAGE
HIS delivers Faster, Cooler, Quieter plus the best quality product!
Professional customer service and technical support
ACCESSORIES
SOFTWARE BUNDLED
| | |
| --- | --- |
| Model Name | HIS HD 4670 IceQ (Full HD 1080p) HDMI 1GB (128bit) 800Mhz DDR3 Dual Link-DVI / VGA / HDMI (HDCP) AGP (RoHS) |
| Chipset | Radeon HD 4600 AGP Series |
| ASIC | RadeonTM HD 4670 GPU |
| Pixel Pipelines | 320 stream processing units* (Unified) |
| Vertex Engines | 320 stream processing units* (Unified) |
| Manu. Process (Micron) | 55nm |
| Transistor | 514 million |
| Memory Size (MB) | 1024 |
| Memory Type | DDR3 |
| RAMDAC (MHz) | 400 |
| Engine CLK (MHz) | 750 |
| Memory CLK (MHz) | 1600 |
| Memory Interface (bit) | 128 |
| Power Supply Requirement | 400 Watt or greater power supply |
| Max. Resolution | 1920x1200 (single-link DVI) or 2560x1600 (dual-link DVI) |
| Bus Interface | AGP 8X/4X |
| VGA | Yes |
| 2nd VGA | No |
| DVI | Yes |
| 2nd DVI | No |
| TV-out | No |
| HDMI | Yes |
| Video-in | No |
| TV Tuner | No |
| FM Tuner | No |
ATI Radeon™ HD 4600 System Requirements

AGP based PC is required with one AGP lane graphics slot available on the motherboard
400 Watt or greater power supply is recommended
Certified power supplies are recommended. Refer to http://ati.amd.com/certifiedPSU for a list of Certified products
1GB of system memory recommended
Installation software requires CD-ROM drive
DVD playback requires DVD drive
Blu-ray™ playback requires Blu-ray drive and full 1080p display requires a 1080p-capable monitor
For more information, please visit the following link:
http://ati.amd.com/products/radeonhd4600/specs.html

HIS IceQ Cooling Technology
HIS IceQ innovative design doubles the strength to its predecessor. It ensures lower operating environment for GPU and memory, extends headroom for overclocking and provides longer service life. HIS IceQ can cool down the core temperature dramatically; lower than original cooler. Heat transfers rapidly out of GPU and reduces temperature faster. Also it is sensitive to ultra violate light with special UV effect.
Break-through Efficiency
Save time and energy with the ATI RadeonTM HD 4600 Series graphics cards which provide optimal performance, break-through efficiency and stability. These graphics cards are a great option for business users who engage in video conferencing or use creative applications that require fast frame rates and exceptional visual quality. With platform-independent intelligent power management, the ATI RadeonTM HD 4600 Series graphics cards deliver the power needed to blaze through even the most intense applications while intuitively conserving energy at idle or when demand is low. Expand your visual workspace with multi- monitor support for advanced multi- tasking to help you get more done in less time.
HDMI Video and Audio
A system with an ATI RadeonTM HD 4600 Series graphics card can help enhance the HD entertainment experience by providing a seamless connection to an HDTV or home theater system. With built-in 7.1 surround sound audio (AC3 / DTS ), the new GPUs and graphics cards support single cable connection directly to a compatible HDTV, projector or receiver. This single cable carries both the HD video and 8 channel audio for a clean, high definition connection. These options give consumers more options and flexibility when connecting their PCs to monitors or home theaters for maximum enjoyment of HD content. The new GPU also supports xvYCC color which can display a wider range of color when connected to capable HDTVs.
Microsoft® DirectX® 10.1 support
ATI RadeonTM HD 4600 series GPUs offer full support for the new DirectX® 10 and DirectX® 10.1 API (Application Program Interface) from Microsoft; ready to meet the demanding needs of new, next generation games. DirectX 10 is the first totally new DirectX in the last 4 years and brings important graphics innovations that can be used by game developers for the next generation of games. DirectX 10 introduces crisp, never-beforeseen detail-rich images, visual effects and game dynamics capable of accurately simulating the real world. No matter which ATI RadeonTM HD 4600 Series GPU you choose, you can be assured that games will look as good as the developer intended!
Microsoft® Windows Vista®
ATI RadeonTM HD 4600 series graphics cards provide support for the Microsoft® Windows Vista® operating system and take advantage of the Windows AeroTM graphical interface. You will be amazed by the dazzling 3D visual effects and have peace of mind that the ATI CatalystTM software and drivers are designed and thoroughly tested to ensure full compatibility and stability to help keep you up and running. All these new technologies and features make the ATI Radeon HD 4600 series of GPUs the ideal solution for ultimate HD gaming and HD video entertainment with the Windows Vista OS.
February 25th, 2012 at 04:09 am
By Jord
This GPU is the king of AGP. I had an Antec Aria Case given to me with a P4 setup. Bought this card and a Blu-ray drive for an HTPC. Never a hiccup on my movies, video games, or other wise. I've overclocked the old P4 478 as much as posible because this GPU is loafing and proc. says 100% while gaming. The best choice if you want to breath some life into an older setup IMO.
October 14th, 2011 at 11:21 pm
By Stuart Blowing
Thoroughly recommend this card especially if you have an Fast older system and resist costly hardware upgrades leading to further expensive software upgrades) (mine P4 (running at nearly 4Ghz) extreme edition,fast corsair memory, Abit IC7 max 3 works fine with latest Bios available ( switch AGP from 128 to 256))...not a single problem (one reinstall of drivers), runs most games not requiring dual processor..supports HD on computer screen and HD 42" plasma screen!, HD video editing (Vista) etc etc....processor on back of card seems very hot (maybe needs a further heat sink) but not a problem so far(2 years)...great for media PC.
September 14th, 2010 at 07:24 am
By danang
ugly and unqualified Nvidia AGP makes me switch on this card. I had one of this card and see the very ultimate performance. Thanks HIS for still manufacture AGP card.
Post your comment
Comments will be reviewed by the editors before being published, mainly to ensure that spam and irrelevant material are not published . Please feel free to comment!
We strongly encourage you to use your real name. E-mail addresses are required in case we need to follow up with you directly. We won't publish your e-mail address unless you request.

回上頁