HIS HD 4770 512MB (128bit) GDDR5 PCIe

產品編號
H477F512P
EAN 編碼
4895139001785
散熱器
Double-Slot Cooler
GPU
4770
芯片時脈
750 MHz
記憶體 時脈
3200bps / MHz
記憶體
512 MB
記憶體類別
GDDR5
記憶體介面
128 bit
介面
PCI Express x16 (PCI Express 2.0)
產品重量(連包裝盒)
0.6 kg
Availability
Available
Beat the GeForce 9800GT and 9600GT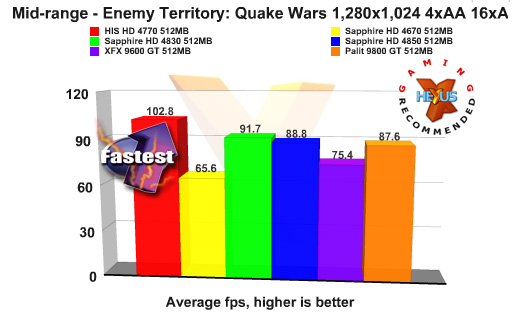 " It's also faster than the GeForce 9800 GT, by a significant amount in some cases, and doesn't lose a single benchmark to it......It's also the fastest of all in Enemy Territory " - Benchmark by Hexus.net

" Even at 1680x1050, we see HIS' Radeon HD 4770 snag a definitive victory over the GeForce 9800 GT, to the tune of over 40%. " - Benchmark by Elite Bastards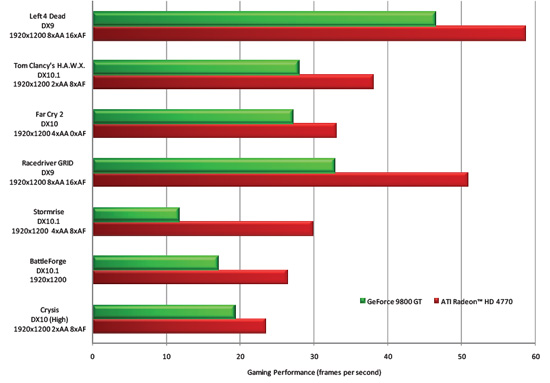 Benchmark provided by AMD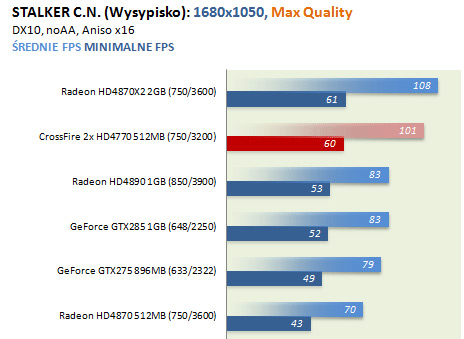 " In Stalker DirectX10.1 environment, cards calibrate excellently as well. Two HIS Radeon HD4770 achieved about 20% better results than GTX285 and GTX275.......In STALKER game the profit over a single card 4770 is very high. Performance gain is almost 200%! We can see unquestionable advantage over single card construction as well from similar price range. " - Review by Benchmark.pl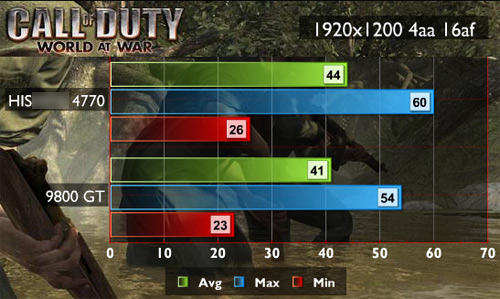 " Looking at the comparison between the 4770 and 9800 GT we see once again that the ATI card is a better performer " - Benchmark by Driver Heaven

Lower Power Comsumption due to the industry's cutting-edge 40nm process technology
Competitive Advantage


ATI RadeonTM HD 4700 Series Key Features
512 MB of GDDR5 memory
DirectX® 10.1 support
640 stream processing units
24x custom filter anti-aliasing (CFAA) and high performance anisotropic filtering
Dual mode ATI CrossFireXTM multi-GPU support for highly scalable performance
PCI Express® 2.0 support
Dynamic geometry acceleration
Game physics processing capability
ATI AvivoTM HD video and display technology
Unified Video Decoder 2 (UVD 2) for Blu-rayTM and HD Video
Accelerated Video Transcoding (AVT)
DVD Upscaling
Dynamic Contrast
Built-in HDMI with 7.1 surround sound support

The HIS DVI to HDMI Adapter for ATI 4000/ 3000 series (Product Code: HHDMI4071) is required to fully utilize the audio through HDMI features

Dynamic power management with ATI PowerPlayTM technology
ATI Stream technology
ACCESSORIES
SOFTWARE BUNDLED
CABLE/ADAPTOR BUNDLED
DVI to HDMI adapter
DVI to VGA adapter
| | |
| --- | --- |
| Model Name | HIS HD 4770 (Full HD 1080p) HDMI 512MB (128bit) GDDR5 Dual DL-DVI & TV (HDCP) PCIe (RoHS) |
| Chipset | Radeon HD 4700 PCIe Series |
| ASIC | RadeonTM HD 4770 GPU |
| Pixel Pipelines | 640 stream processing units* (Unified) |
| Vertex Engines | 640 stream processing units* (Unified) |
| Manu. Process (Micron) | 40nm |
| Transistor | 826 million |
| Memory Size (MB) | 512 |
| Memory Type | GDDR5 |
| RAMDAC (MHz) | 400 |
| Engine CLK (MHz) | 750 |
| Memory CLK (Gbps) | 3.2Gbps (800 x 4) |
| Memory Interface (bit) | 128 |
| Power Supply Requirement | 450 Watt or greater power supply with two 75W 6-pin PCI Express® power connectors recommended (550 Watt and four 6-pin connectors for ATI CrossFireXTM technology in dual mode) |
| Max. Resolution | Two x 2560*1600 (Dual dual-link) |
| Bus Interface | PCI Express x16 |
| VGA | No |
| 2nd VGA | No |
| DVI | Yes |
| 2nd DVI | Yes |
| TV-out | Yes |
| HDTV (YPrPb component output) | No |
| Video-in | No |
| TV Tuner | No |
| FM Tuner | No |
ATI Radeon™ HD 4770 System Requirements

450 Watt or greater power supply with one 75W 6-pin PCI Express® power connectors recommended (550 Watt and two 6-pin connectors for ATI CrossFireXTM technology in dual mode)
Certified power supplies are recommended. Refer to for a list of Certified products
Minimum 1GB of system memory
Installation software requires CD-ROM drive
DVD playback requires DVD drive
Blu-ray™ playback requires Blu-ray drive
For a complete ATI CrossFireX™ system, a second ATI Radeon™ HD 4770 graphics card, an ATI CrossFireX Ready motherboard and one ATI CrossFireX Bridge Interconnect cable per graphics card are required

Redefine HD Gaming
The ATI RadeonTM HD 4770 graphics processing unit (GPU) offers an unbeatable combination of HD gaming performance and price. Featuring the industry's cutting-edge 40nm process technology and the most advanced GDDR5 memory technology, this GPU delivers seamless frame rates with incredible speed and processing power. Proof that high performance gaming and price can co-exist without compromise.
ATI AvivoTM HD Technology
ATI AvivoTM HD is the advanced image and video processing and display technology found in ATI RadeonTM HD GPUs and ATI TheaterTM video capture processors. Specifically designed for HDTV and HD video enthusiasts, ATI Avivo HD provides brilliant colors, sharp images, smooth playback of Blu-rayTM* and HD video content, HDMI with built-in multi-channel digital audio, and on some GPUs, Unified Video Decoding (UVD). UVD is designed to enable a cool and quiet media PC with low CPU power requirements and playback of HD 1080p content. HD Monitor is required for full 1080p enjoyment.
HDMI Video and Audio
A system with an ATI RadeonTM HD 4700 Series graphics card can help enhance the HD entertainment experience by providing a seamless connection to an HDTV or home theater system. With built-in 7.1 surround sound audio (AC3 / DTS ), the new GPUs and graphics cards support single cable connection directly to a compatible HDTV, projector or receiver. This single cable carries both the HD video and 8 channel audio for a clean, high definition connection. Some graphics cards will be equipped with an HDMI connector, while others will output the HDMI signal using a special ATI Radeon DVI-I to HDMI adapter. These options give consumers more options and flexibility when connecting their PCs to monitors or home theaters for maximum enjoyment of HD content. The new GPU also supports xvYCC color which can display a wider range of color when connected to capable HDTVs.
* The HIS DVI to HDMI Adapter for ATI 4000/ 3000 series (Product Code: HHDMI4071) is required to fully utilize the audio through HDMI features
Microsoft® DirectX® 10.1 support
ATI RadeonTM HD 4700 series GPUs offer full support for the new DirectX® 10 and DirectX® 10.1 API (Application Program Interface) from Microsoft; ready to meet the demanding needs of new, next generation games. DirectX 10 is the first totally new DirectX in the last 4 years and brings important graphics innovations that can be used by game developers for the next generation of games. DirectX 10 introduces crisp, never-beforeseen detail-rich images, visual effects and game dynamics capable of accurately simulating the real world. No matter which ATI RadeonTM HD 4800 Series GPU you choose, you can be assured that games will look as good as the developer intended!
ATI CrossFireXTM Technology
ATI CrossFireXTM multi-GPU technology takes your gaming experience to the next level with superb scalability, performance and compatibility. The technology combines the awe-inspiring capabilities of multiple ATI RadeonTM graphics cards and an ATI CrossFireX ready motherboard to meet the hard-core demands of your alternate reality. New ATI RadeonTM HD graphics cards are designed with an internal ATI CrossFireTM Bridge Interconnect system to simplify installation.
Microsoft® Windows Vista®
ATI RadeonTM HD 4700 series graphics cards provide support for the Microsoft® Windows Vista® operating system and take advantage of the Windows AeroTM graphical interface. You will be amazed by the dazzling 3D visual effects and have peace of mind that the ATI CatalystTM software and drivers are designed and thoroughly tested to ensure full compatibility and stability to help keep you up and running. All these new technologies and features make the ATI Radeon HD 4800 series of GPUs the ideal solution for ultimate HD gaming and HD video entertainment with the Windows Vista OS
July 15th, 2014 at 01:06 pm
By Smithd251
Its really a great and useful piece of information. Im glad that you shared this useful info with us. Please keep us informed like this. Thanks for sharing. edgdadffcckcekdg
May 11th, 2014 at 04:48 am
By Smithc942
I don't usually comment but I gotta admit thanks for the post on this great one efdbaeecedffdace
May 4th, 2014 at 03:43 am
By Smithd107
I like this weblog so considerably, saved to my bookmarks. kggcaedbckegdkag
June 20th, 2009 at 05:20 pm
By m4rc0
this Card is unbelivevableee!!
other wise it's quite and cooler
by theway more most anvanced if with CF
May 20th, 2009 at 03:20 am
By Robert
I just wanted to thank HIS for their efforts in maintaining a very strong and respected company. I recently purchased a 4770 off of newegg.com and since they were all identical I based my decision off, of all things, your website. I looked at other vendor websites and they all seemed to lack fluidity and ease of use. You have a great website and actually had drivers for the 4770 which others did not.
I upgraded from an NVIDIA 7600GT (I know, ancient card) and I could not be any more pleased. The price point, the quality, everything about this card is phenomenal.
Brand new architecture, GDDR5, lots of overhead for overclocking. The drivers come with an official program from ATI to OC your card, and I have that maxed out and it still runs cool, quiet, and stable. I know this card can be pushed further with third party software, but I am more than satisfied with my current settings.
Summary: This card is cool, quiet, and stable. It's a great deal and I highly recommend it, especially from HIS.
May 15th, 2009 at 04:49 pm
By TANER BULUT
Double of these cards in CF mode beats gtx285 in most games and apps.
Post your comment
Comments will be reviewed by the editors before being published, mainly to ensure that spam and irrelevant material are not published . Please feel free to comment!
We strongly encourage you to use your real name. E-mail addresses are required in case we need to follow up with you directly. We won't publish your e-mail address unless you request.

回上頁