HIS X1550 iFan 512MB HyperMemory w/256MB (64bit) DDR2 Dual-Link DVI Low Profile PCIe x1

Produkt-Code
H155HMF256EL1-R
H155HMF256EL1N-R

EAN-Code
4897005359594
Kühler
iFan
GPU
1550
Core-Takt
550 MHz
Speichertakt
800 MHz
Speichergröße
512 MB
Speichertyp
DDR2
Speicher-Interface
64 bit
Interface
PCI-Express x1
Produktabmessungen
12.1 X 18 X 2.2 cm
Verpackungsabmessungen
12.5 x 25 x 4 cm cm
Verpackungsgewicht
0.7 kg
Availability
Discontinued
His X1550 256MB (512MB HyperMemory) PCIe x1 is a economical multi-monitoring solution for the Business and Multimedia. It hasa 4 pixels Shader units, a clock memory of 550 MHz and a core memory of 800 MHz. Each HIS X1550 PCIe x 1 card enable user to connect to 2 monitors at the same time and up p to 9 monitors can be connected. User can easily control the setting by the well-known ATI Catalyst driver.
The PCI-X1 slot on nearly all traditional motherboard. Users who need to deal with several applications in the same time, especially to professionals in multimedia field, found multi-montiors setting a huge time saver. The ability to display e-mail on one monitor, a browser window on a second and in some cases an application on a third, and then seamlessly move their cursors from screen to screen, is a clear benefit!
Having multiple monitors is more than just having more space. It can be a huge time saver for people!
Features Advantages

World's best performance PCIe x1 solution on ATI X1K family with Dual Link DVI supported
Multi-monitors possibility
Bringing upgrade possibility to those onboard graphic without PCIe x16 slot
Best for Video, Photo and Office applications
Low Profile form-factor
Upgrading Possibilities:
Brand name system: like Dell (eg: Dell Dimension E310), HP, IBM and some of those onboard graphic systems which do not come with extra PCIe x 16 slot but only with 1 or more PCIe x 1 slot(s). For example:


Dell E310.

Dell optiplex 745

Dell Optiplex GX520

Dell PowerEdge SC1430

HP/Compaq SFF desktop dc series(except dc5100 SFF)

Chipset limitation: such as Intel i910GL, i915PL/GL/GV, i945GZ come with PCIe x 1 but without PCIe x 16 support.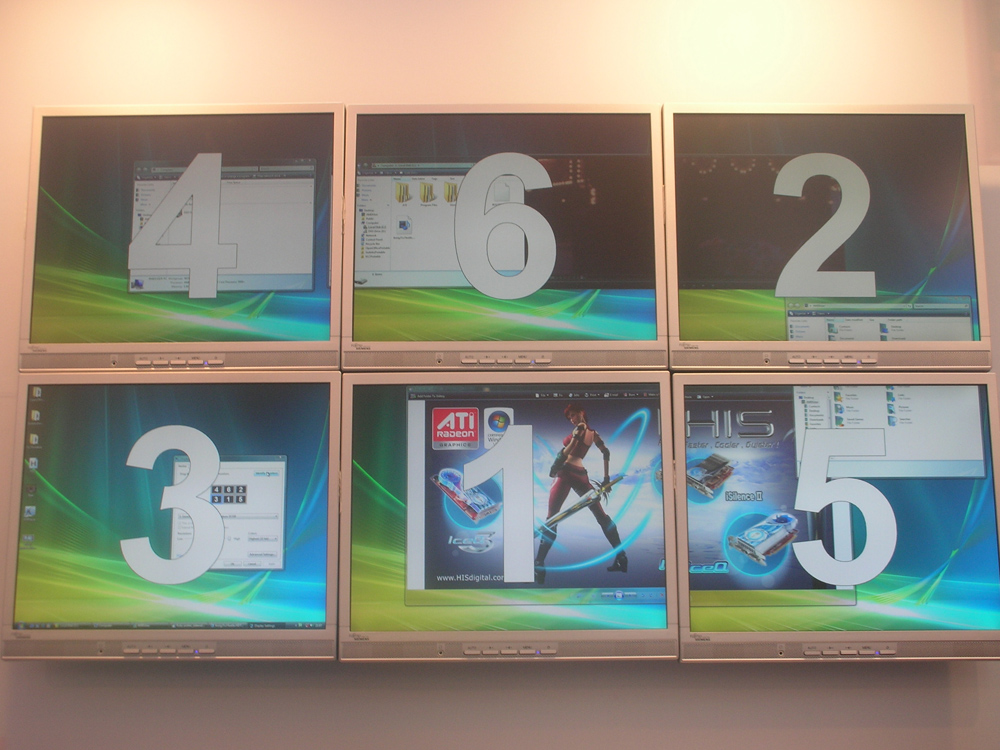 | | | |
| --- | --- | --- |
| | Connected Monitors | Total Monitors |
| Onboard Display / Generic PCIe x 16 graphic card | 1 or 2 | 1 or 2 |
| 1 st piece of HIS 512MB HM PCIe x1 | 2 | 3 or 4 |
| 2 nd piece of HIS 512MB HM PCIe x1 | 2 | 5 or 6 |
| 3 rd piece of HIS 512MB HM PCIe x1 | 2 | 7 or 8 |
| N th piece of HIS 512MB HM PCIe x1 | 2 | N x 2 + 1 or 2 |
---
Powered by ATI Radeon X1550 - 550MHz
256MB-64bit 4 channel DDR2 memory - 800MHz
4 Pixel shader processors
2 Vertex shader processors
4 Geometry Pipelines
Ultra-threaded SM 3.0 Engine
ATI AvivoTM
High Precision Architecture
PCI Express® x1 lane support
Compatible for Dell Dimension E310 Desktop
CHIPSET FEATURES
RV515 80nm process
Vertex and Pixel Shader 3.0
Dynamic Branching and Flow Control
128-bit FP32 Processing
128-way Ultra-threaded dispatch processor
High Dymanic Range rendering
All stage Trilinear (16X) Anisotropic Filtering
Full (HQ) Anisotropic Filtering
Temporal Anti-Aliasing mode
6X Adaptive AA
12-tap error-free Dynamic Soft Shadows
High resolution texture support (up to 4k x 4k)
H.264 Accelerated
Dual-Link DVI
DirectX® 9 and OpenGL® supported
HIS PRODUCTS ADVANTAGE
HIS delivers Faster, Cooler, Quieter plus the best quality product!
Platinum packing with software bundle
Professional customer service and technical support
CABLE/ADAPTOR BUNDLED
S-Video Cable
S-Video Adapter
S-Video to HDTV Cable
High Profile Bracket
DVI to VGA Dongle
| | |
| --- | --- |
| Model Name | HIS X1550 iFan 512MB HyperMemory w/256MB (64bit) DDR2 PCIe x1 Dual-Link DVI & TV (PAL) (RoHS) Low Profile |
| Chipset | Radeon HD X1550 PCIe Series |
| ASIC | RadeonTM HD X1550 GPU |
| Pixel Pipelines | 4 |
| Vertex Engines | 2 |
| Manu. Process (Micron) | 80nm |
| Memory Size (MB) | 512 HyperMemory w/256MB |
| Memory Type | DDR2 |
| RAMDAC (MHz) | 400 |
| Engine CLK (MHz) | 550 |
| Memory CLK (MHz) | 800 |
| Memory Interface (bit) | 256 |
| Max. Resolution | 1920x1200 (single-link DVI) or 2560x1600 (dual-link DVI) |
| Bus Interface | PCI Express x1 |
| Power Supply Requirement | 450 Watt or greater power supply with two 75W 6-pin PCI Express® power connectors recommended |
| VGA | Yes |
| 2nd VGA | No |
| DVI | Yes |
| 2nd DVI | No |
| TV-out | Yes |
| HDTV (YPrPb component output) | No |
X1550 PCIe 1X System Requirements

· PCI Express® based PC is required with one X1 lane graphics slot available on the motherboard
· 450 Watt or greater power supply recommended
· Certified power supplies are recommended. Refer to http://ati.amd.com/CertifiedPSU for a list of Certified products
· 1GB of system memory
· Installation software requires CD-ROM drive
· DVD playback requires DVD drive
· Blu-ray / HD DVD playback requires Blu-ray / HD DVD drive

For more information, please visit the following link:
http://ati.amd.com/products/RadeonX1550/index.html
Delivers all high-end graphics features for gaming, surfing the Internet and watching digital video at a smart price!
HIS X1550 delivers all the high-end graphics features: supports the DirectX 9.0c, OpenGL 2.0 and Shader Model 3.0, and for anti-aliasing with HDR. Avivo™ engine is also included for encoding/decoding the latest video formats, e.g. MPEG-4, MPEG2, DivX, and H.264…etc.
Prepare your PC with a graphics card that delivers a premium Windows Vista™ experience for playing games, watching movies and viewing pictures. HIS X1550 provides excellent image quality for all gaming, visual and interactive applications.
ATI Radeon™ X1550 graphics technology delivers all the high-end graphics features - for gaming, surfing the Internet and watching digital video - at a smart price. The ATI Radeon X1550 series integrates with Windows Vista™ to create a premium visual experience, allows users to connect to multiple monitors and improves visual applications.
---
Are you ready for Windows Vista?
Products based on ATI Radeon X1550 graphics technology are an excellent complement to Microsoft's new 3D based operating system, allowing you to get more enjoyment out of movies, games, and digital photos.
Maximize Gaming Adventures
Experience excellent image quality for all gaming, visual and interactive applications
Gain a gaming edge with CrossFire™ technology that doubles your system's graphics potential
Features

105 million transistors on 90nm fabrication process
Four pixel shader processors
Two vertex shader processors
128-bit 4-channel DDR/DDR2/GDDR3 memory interface

32-bit/1-channel, 64-bit/2-channel, and 128-bit/4-channel configurations

Native PCI Express x16 bus interface

AGP 8x configurations also supported with external bridge chip

Dynamic Voltage Control
High Performance Memory Controller

Fully associative texture, color, and Z/stencil cache designs
Hierarchical Z-buffer with Early Z test
Lossless Z Compression (up to 48:1)
Fast Z-Buffer Clear
Z/stencil xache optimized for real-time shadow rendering
Ultra-Threaded Shader Engine

Support for Microsoft® DirectX® 9.0 Shader Model 3.0 programmable vertex and pixel shaders in hardware
Full speed 128-bit floating point processing for all shader operations
Up to 128 simultaneous pixel threads
Dedicated branch execution units for high performance dynamic branching and flow control
Dedicated texture address units for improved efficiency
3Dc+ texture compression

High quality 4:1 compression for normal maps and two-channel data formats
High quality 2:1 compression for luminance maps and single-channel data formats

Multiple Render Target (MRT) support
Render to vertex buffer support
Complete feature set also supported in OpenGL® 2.0
Advanced Image Quality Features

64-bit floating point HDR rendering supported throughout the pipeline

Includes support for blending and multi-sample anti-aliasing

32-bit integer HDR (10:10:10:2) format supported throughout the pipeline

Includes support for blending and multi-sample anti-aliasing

2x/4x/6x Anti-Aliasing modes

Multi-sample algorithm with gamma correction, programmable sparse sample patterns, and centroid sampling
New Adaptive Anti-Aliasing feature with Performance and Quality modes
Temporal Anti-Aliasing mode
Lossless Color Compression (up to 6:1) at all resolutions, including widescreen HDTV resolutions

2x/4x/8x/16x Anisotropic Filtering modes

Up to 128-tap texture filtering
Adaptive algorithm with Performance and Quality options

High resolution texture support (up to 4k x 4k)
High performance programmable video processor

Accelerated MPEG-2, MPEG-4, DivX, WMV9, VC-1, and H.264 decoding and transcoding
DXVA support
De-blocking and noise reduction filtering
Motion compensation, IDCT, DCT and color space conversion
Vector adaptive per-pixel de-interlacing
3:2 pulldown (frame rate conversion)

Seamless integration of pixel shaders with video in real time
HDR tone mapping acceleration

Maps any input format to 10 bit per channel output

Flexible display support

Dual integrated DVI transmitters (one dual-link + one single-link)

DVI 1.0 compliant / HDMI interoperable and HDCP ready*

Dual integrated 10 bit per channel 400 MHz DACs
16 bit per channel floating point HDR and 10 bit per channel DVI output
Programmable piecewise linear gamma correction, color correction, and color space conversion (10 bits per color)
Complete, independent color controls and video overlays for each display
High quality pre- and post-scaling engines, with underscan support for all outputs
Content-adaptive de-flicker filtering for interlaced displays
Xilleon™ TV encoder for high quality analog output
YPrPb component output for direct drive of HDTV displays**
Spatial/temporal dithering enables 10-bit color quality on 8-bit and 6-bit displays
Fast, glitch-free mode switching
VGA mode support on all outputs
Drive two displays simultaneously with independent resolutions and refresh rates

Compatible with ATI TV/Video encoder products, including ATI Theater™ 650
Post your comment
Comments will be reviewed by the editors before being published, mainly to ensure that spam and irrelevant material are not published . Please feel free to comment!
We strongly encourage you to use your real name. E-mail addresses are required in case we need to follow up with you directly. We won't publish your e-mail address unless you request.

Zurück